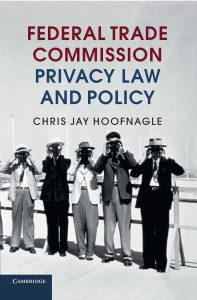 "Chris Hoofnagle has written the definitive book about the FTC's involvement in privacy and security. This is a deep, thorough, erudite, clear, and insightful work – one of the very best books on privacy and security."
"A landmark work for anyone interested in privacy or consumer protection law."
"This well-written, comprehensive history of the Federal Trade Commission shows once again the primary importance the agency has played in shaping the regulatory environment of the United States. It is essential reading for anyone who deals regularly with the FTC, and is a good primer for those coming in contact with the agency for the first time. Clear, thoughtful and engaging."
"A timely and insightful analysis of the FTC as a key actor in protecting information privacy. The historical context provides a solid basis for Hoofnagle's well-supported policy recommendations."
"A welcome perspective on challenges facing a great agency designed to "rein in" the American market."
"This book offers a fascinating, informed exploration into the dangers of the Internet and the problems and potentials of the FTC in effectively dealing with them. It is well worth our attention."
"This book offers a fascinating, informed exploration into the dangers of the Internet and the problems and potentials of the FTC in effectively dealing with them. It is well worth our attention."
"Chris Hoofnagle has done an enormous public service by writing a comprehensive and critical guide to the Federal Trade Commission's consumer protection efforts, which started over a century ago in reaction to a changing economy and industrialization. Invasive new technologies and influential internet platforms make the agency more relevant than ever, but it remains a mystery to most citizens and is often maligned by business interests. Those of us who care about privacy and fairness in the digital age must pay attention to the FTC's crucial role in information policy, and we could not ask for a better primer than this incisive and informative book."
"Hoofnagle makes sense of the recent challenges to the FTC's data security authority and suggests a long-term, structural strategy for addressing information-age security risks."
"Chris Hoofnagle, UC Berkeley, has written an excellent book about the FTC and its approach to privacy. In part, it is an institutional history… I think the book also would make a great foundational text in a seminar on consumer law."
"This is a detailed, clearly written guide to the FTC, with specific attention to its privacy practices but including an extensive discussion of its overall history and jurisdiction…I learned a lot, and I'm going to recount some of the highlights…"
"Chris Hoofnagle has put together an impressive, authoritative and useful treatise on the law of consumer privacy in the U.S. and the role of the Federal Trade Commission.  This book is an excellent read for all those interested in consumer privacy, and should prove to be a valuable resource for years to come."
…Through his analysis of the role played by the courts, Congress, and the Commission itself, he illustrates the doctrines and dynamics that have contributed to shaping this agency. This makes the book a valuable tool for European privacy experts who wish to better understand the US regulatory approach to privacy protection and understand how political and social forces have affected the powers given to the Commission.
…Overall, Chris Hoofnagle's Federal Trade Commission Privacy Law and Policy is a fascinating read and a treasure trove of useful references for further research.
2016
Wednesday, November 16
Professor Kenneth Rogoff's Curse of Cash convincingly argues that we pay a high price for our commitment to cash: Over a trillion dollars of it is circulating outside of US banks, enough for every American to be holding $4,200. Eighty percent of US currency is in hundred dollar bills, yet few of us actually carry large bills around (except perhaps in the Bay Area, where the ATMs do dispense 100s…). So where is all this money? Rogoff's careful evidence gathering points to the hands of criminals and tax evaders. Perhaps more importantly, the availability of cash makes it impossible for central banks to pursue negative interest rate policies—because we can just hoard our money as cash and have an effective zero interest rate.
What to do about this? Rogoff does not argue for a cashless economy, but rather a less cash economy. Eliminate large bills, particularly the $100 (interesting fact–$1mm in 100s weighs just 22 pounds), and then moving large amounts of value around illegally becomes much more difficult. Proxies for cash are not very good—they are illiquid, heavy, or easily detectable. And what about Bitcoin?—not as anonymous as people think. Think Rogoff's plan is impossible? Well, India Prime Minister Modi just implemented a version of it, eliminating the 500 and 1,000 rupee notes.
As you might imagine, Rogoff's proposal angers many privacy advocates and libertarians. His well written, well informed, and well argued book deserves more than its 2 stars on Amazon.
My critique is a bit different from the discontents on Amazon. I think Rogoff's proposal offers a good opportunity to think through what consumer protection in payments systems might look like in a less-cash world—this is a world I think we are entering. Yet, Rogoff's discussion shows a real lack of engagement in the payments and especially the privacy literature. For Rogoff's proposal to be taken seriously, we need to revamp payments to address the problems of fees, cybersecurity, consumer protection, and other pathologies that electronic payments exacerbate.
The Problem of Fees
One immediately apparent problem is that as much as cash contributes to crime and tax evasion, electronic payments […]