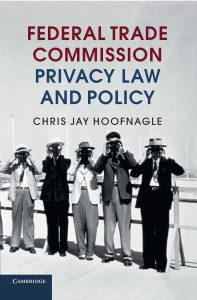 "Chris Hoofnagle has written the definitive book about the FTC's involvement in privacy and security. This is a deep, thorough, erudite, clear, and insightful work – one of the very best books on privacy and security."
"A landmark work for anyone interested in privacy or consumer protection law."
"This well-written, comprehensive history of the Federal Trade Commission shows once again the primary importance the agency has played in shaping the regulatory environment of the United States. It is essential reading for anyone who deals regularly with the FTC, and is a good primer for those coming in contact with the agency for the first time. Clear, thoughtful and engaging."
"A timely and insightful analysis of the FTC as a key actor in protecting information privacy. The historical context provides a solid basis for Hoofnagle's well-supported policy recommendations."
"A welcome perspective on challenges facing a great agency designed to "rein in" the American market."
"Hoofnagle masterfully distills and concentrates the major steps in the development of the FTC's consumer protection authority…This is a serious work of historical scholarship."
"This book offers a fascinating, informed exploration into the dangers of the Internet and the problems and potentials of the FTC in effectively dealing with them. It is well worth our attention."
"Chris Hoofnagle has done an enormous public service by writing a comprehensive and critical guide to the Federal Trade Commission's consumer protection efforts, which started over a century ago in reaction to a changing economy and industrialization. Invasive new technologies and influential internet platforms make the agency more relevant than ever, but it remains a mystery to most citizens and is often maligned by business interests. Those of us who care about privacy and fairness in the digital age must pay attention to the FTC's crucial role in information policy, and we could not ask for a better primer than this incisive and informative book."
"Hoofnagle makes sense of the recent challenges to the FTC's data security authority and suggests a long-term, structural strategy for addressing information-age security risks."
"Chris Hoofnagle, UC Berkeley, has written an excellent book about the FTC and its approach to privacy. In part, it is an institutional history… I think the book also would make a great foundational text in a seminar on consumer law."
"This is a detailed, clearly written guide to the FTC, with specific attention to its privacy practices but including an extensive discussion of its overall history and jurisdiction…I learned a lot, and I'm going to recount some of the highlights…"
"Chris Hoofnagle has put together an impressive, authoritative and useful treatise on the law of consumer privacy in the U.S. and the role of the Federal Trade Commission.  This book is an excellent read for all those interested in consumer privacy, and should prove to be a valuable resource for years to come."
…Through his analysis of the role played by the courts, Congress, and the Commission itself, he illustrates the doctrines and dynamics that have contributed to shaping this agency. This makes the book a valuable tool for European privacy experts who wish to better understand the US regulatory approach to privacy protection and understand how political and social forces have affected the powers given to the Commission.
…Overall, Chris Hoofnagle's Federal Trade Commission Privacy Law and Policy is a fascinating read and a treasure trove of useful references for further research.
"…fraud is endemic to modern capitalism," so said Professor Edward Balleisen at a National History Center talk on his excellent, comprehensive, thoughtful Fraud: An American History from Barnum to Madoff. We need histories of consumer protection. Balleisen provides one such history, focusing on the idea of fraud—specifically those wrought by businesses against consumers and investors. The concept of "fraud" is complex, it is defined differently through disciplinary lenses, and when we think about FTC privacy and many other consumer protection efforts, we are addressing conduct that is different from Balleisen's focus. Yet, Balleisen's book offers lessons for consumer protection more broadly and I learned a great deal from it.
Balleisen's observation of the policy pendulum of anti-fraud efforts is most clearly stated on page 309, and anyone involved in modern debates on the FTC will recognize it:
Forceful antifraud tactics tended to generate complaints about autocratic governance that ran roughshod over individual rights and American values, which then prompted adoption of procedural protections, which in turn limited the effectiveness of administrative remedies. Post–World War II proceduralism deepened the democratic legitimacy of antifraud regulation, but at the cost of extending the rights of accused businesses, whether in criminal or administrative contexts.
My copy of Balleisen's book is heavily marked up. So here are two key questions answered by the book and some other reflections–
Why, despite our rich information environment and seeming greater accountability brought about by technology and institutions, do frauds still persist, largely in five basic forms (pump and dump, pyramid scheme, bait and switch, advanced fee frauds, control fraud)?
There are businesses committed to fraud. The proceduralism described by Balleisen allowed committed fraudsters (Holland Furnace, Fritzel Television) to slow down intervention.
Committed fraudsters keep a "squawk" fund to "cool of the mark" by paying the consumers who do complain.
Especially in areas where products/services are new and norms do not yet exist, new market entrants have more space for deception.
Concerns about the pace of innovation and creating breathing room for it makes tolerance for fraud a part of a dynamic economy.
A turn to individualism in the 1970s caused […]