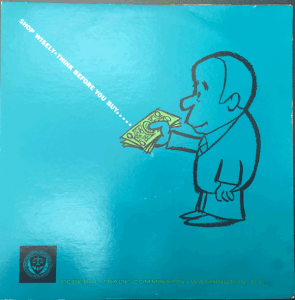 Here's another example of the FTC's dynamism and innovation—sometime in the early 1970s, it created radio spots to inform consumers of various marketplace problems. This album, titled, Shop Wisely Think Before You Buy, includes tracks (listen below) from: Shirley Jones, Leonard Nimoy, Karen Valentine, Sebastian Cabot, Burt Reynolds, Clu Gulager, Carol Burnett, Lloyd Haynes, and Beverly Garland.
Many of the tracks include the word "gypped," a term that the FTC would be unlikely to use today!
I've asked all the FTC old-timers I know about this album, but none knows about it. It would be interesting to learn how the FTC secured the participation of all these celebrities. The spots are not terribly polished, and some actors are not doing their best in them. Perhaps they were performing to get out from under a FTC investigation 🙂
Also interesting: many of the problems discussed in the spots are now governed by various specific rules (unordered merchandise, holder in due course, cooling off, BOGO offers), instead of leaving it to the consumer.
The album (AAVP 70139) is undated, but it is accompanied by a letter from Chairman Miles Kirkpatrick, who served from September 1970 until February 1973. The letter from Chairman Kirkpatrick reads:
Dear Program Director:

"Consumerism is sweeping the country.

Roman Law of 2000 years ago, "Let the buyer beware" is being changed to "Let the seller beware." The consumer protection movement – with new laws at local, state and national levels – has become a strong restraining factor on those given to making products and services.

We ask your cooperation in presenting these radio public service announcements. Through your efforts you will be helping your listeners to look for more value in what they buy. As consumers they have certain rights. Your station can help to inform them of these rights and tell them of some of the pitfalls of the marketplace by scheduling these important messages as often as possible.

Sincerely,

Miles W. Kirkpatrick
And here are the tracks, in order:
Shirley Jones: beware 2 for 1 offers, bulk sizes